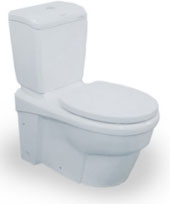 The Expellor Toilet - with built-in
air extraction technology
Tested & Certified by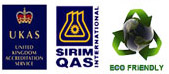 View the SIRIM report
»here
Complies with UK Building Regulations Air Extraction Flow Rates (Part F - Sanitary Accommodation).* see note below Easily exceeds air extraction requirements of 6 litres/sec. Accreditation tests achieved 13 litres/sec & 19 litres/sec.

Expellor Toilet with Built-in Air Extractor

• Complies with UK Building Regulations
• Ideal for installation in confined spaces
• Use under-stairs or in internal bathrooms & toilets
• No additional ducting or extractor fans required
• Simple to install
• Maintenance free
• Low running costs - uses 12 volt DC


The GBH Group, in collaboration with the Italian based Saverio Design, have manufactured the first custom designed toilet called "Expellor" which incorporates our Universal Extractor technology. The air extraction unit fits snugly between the cistern and the toilet bowl.

The Expellor toilet comes complete. The air extraction unit can either be pre-installed at the factory or easily assembled on site by a plumber or installer.

The built-in air extraction unit is powered from a mains powered 12 volt DC transformer (included) for truly maintenance free operation. It is totally safe with no additional ventilation ducts or holes in the walls or ceilings for fans being required.
Buy The Expellor Toilet Now!
Expellor toilets are available from AirAway.
The Registered Retail Price (RRP) is £569 plus VAT and a carriage charge of £35.00.
Volume discounts for 2 or more units are available (please email us for further information).

020 8452 2281
or
The Air Extractor System for Confined Spaces
No Ceiling Fan or Internal Ducting Required
AS SEEN on DRAGONS' DEN -
Watch the episode on BBC iPayer »here ...
Read the great comments on the Dragons' Den website